PRODUCTS - Testimonials
Here's what people say in the U.S. and Europe about the Quadribent:
See also FLICKR photos & videos: http://www.flickr.com/photos/blackbirdbikes/
---
Photos of first Quadribent in France! (and video--more videos to come!)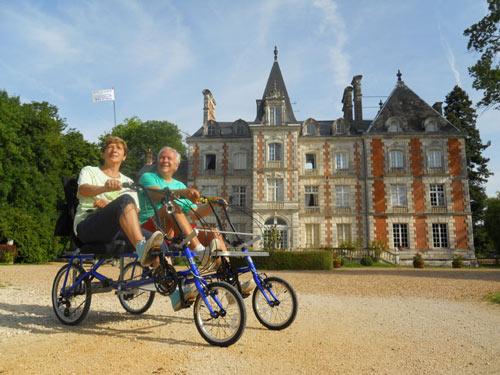 Riding by castles and châteaux near the Loire river in the famous Valley of the Kings

Quadribent Biking near Chateau in France
Riding a Quadribent by a Chateau in the Loire region of France. [video 0:23]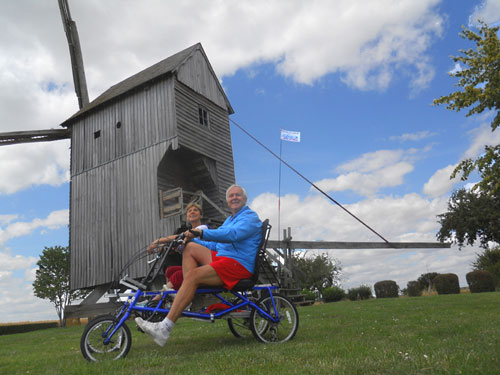 Riding by a windmill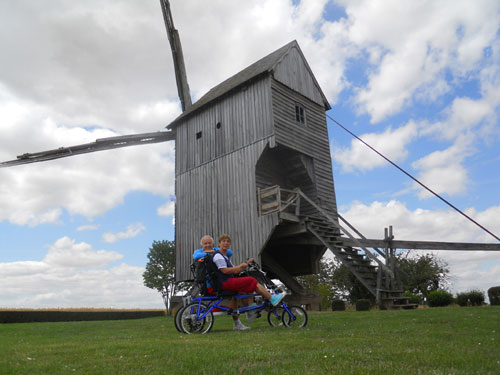 Our QUADRICYCLE (QUADRIBENT) arrived yesterday in our SHOP located 37 km from our sweet home...! We went on hike by foot at 06:30 to the first village at 6 km then took a bus to the SHOP...and came back then with our gift....!!! Once again many thanks. You are very kind indeed, I really appreciate it..!
Philippe PONTOIRE
Note: we are very proud to be the only FRENCHIES using your QUADRIBENT in FRANCE...!!!
---
First Quadribent in Europe - in Belgium!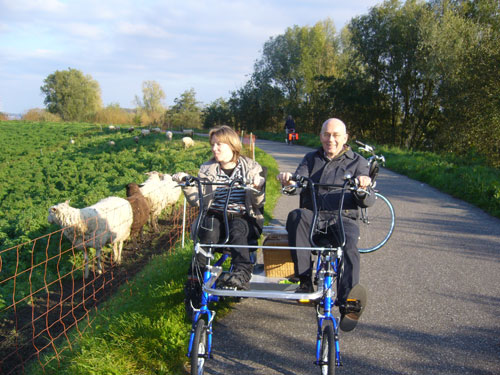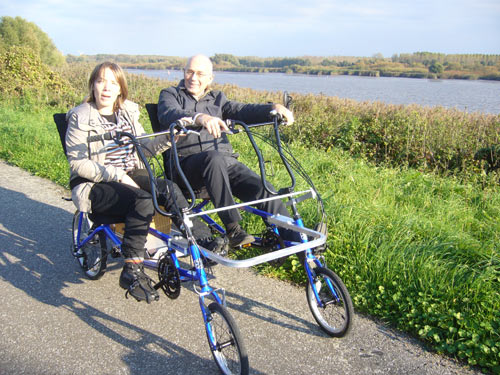 Dear Mr Black

Here are some pictures of the first Quadribent in Europe! Cycling on one of the last sunny autumn days alongside the river Schelde in Belgium.
We knicknamed it "the good mood bike": because, in passing, all walkers and bikers start smiling upon seeing us, Kristina smiling and enjoying her ride, completely relaxed. Your invention is based on a simple idea, that one wonders why we have not found it earlier and why we were the first.
Now indeed, our daughter, for whom cycling on an individual bike and ordinary tandem had become a painstaking effort, for the first time in years, has found pleasure in cycling again. The quadribent is not only a more social solution (chatting with your co-driver - also now anybody can be co-driver), but also a more ergonomic one for people with cerebral palsy, as now they can sit comfortably and pedal in the front direction, which makes the feet less spastic and without need for splints.
Also from the point of rehabilitation it is a wonderful solution, as now they can move their legs, exercise their quadriceps (quadriceps weakness is a reported problem for people with cerebral palsy), steer again and pedal at their own comfortable pace. Much better than the more passive biking solutions such as a wheel-chair bike and a hand-driven bike. The Quadribent is pleasure and good sense together. Thank you so much!
J. Lebeer MD PhD
Belgium
---
Quadribent in Virginia Beach!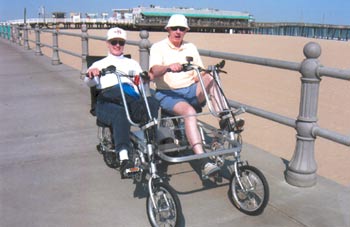 Enclosed is a picture of our Quadribent on the boardwalk in Virginia Beach with Mr.& Mrs. Ton aboard; Transportation was no problem with frame parts in the car trunk and the two bikes on a conventional bike rack. We enjoyed riding it on the boardwalk for 4 days in October. The boardwalk is 3 miles end to end. We assembled and disassembled each day since we had to store the bikes in our hotel room and the frame parts in the car overnight. We averaged about 15 minutes for disassembly and 20 minutes for assembly and didn't need to use any tools. The simple "T" frame, that I mentioned to you that I built, was useful in holding one bike vertical during the process. The rides were worth the time - extremely enjoyable!
Mr. & Mrs. Ton
Virginia Beach, VA
---
July 14, 2009
Hi Jim!
We spoke with you at the Bike Show in March 2007 and purchased a quadribent from Edina Bikes on March 28, 2007. We have thoroughly enjoyed it since then.... We are within 25 miles of reaching a new milestone of 4000 miles of riding together with your bike design!!!
Thank you for the many happy and pleasant miles we've ridden together and for all the "smiles" we have "counted and collected" along the way!!!
Sincerely,
Linda & Tom E.
---
I love riding the Quadribent! The cargo platform makes it handy to take a picnic lunch and bike to the park or the beach. Because the recumbent seats are so comfortable, I feel like riding longer. I like the side-by-side 'sociable' aspect, which makes biking with others fun.
J.B. - San Diego, California
---
The Quadribent is such a unique vehicle, it turns heads, gets double-takes and awed expressions from onlookers. I like all the attention and smiles I get when I ride it. The Quadribent rocks!
K.R. - Irvine, California
"For about two years now Penn Cycle and Fitness has been working with Jim Black and Blackbird Designs on what has become for us unique and virtually exclusive category in cycling products. The Side-by-Side bike has been especially useful in meeting the needs of families with handicapped or disabled children (or parents), for whom the joy of bicycling was not an option. Word of mouth referrals have been a great source of additional sales that are so easy to make, one almost feels guilty! Just having one outside my shop for display and test rides has lead to countless customer relationships being founded with folks who were just driving by and may have had no intention of shopping for a new bicycle. It tells our customers we at Penn Cycle and Fitness are all about having fun in creative new ways.

"Jim Black has been one of the most supportive vendors I've ever worked with in 16 years of bicycle retailing. From warranty replacement, to training our mechanics how to build his kit onto the Sun EZ recumbents, to helping me solve special needs with innovative accessories and concepts, Jim has helped us deliver a profitable, quality product in a fast and efficient manner. "

Chris Rode,
Sales Manager
Penn Cycle and Fitness
Eagan, Minnesota