First EZ Quadribent in Europe - in Belgium!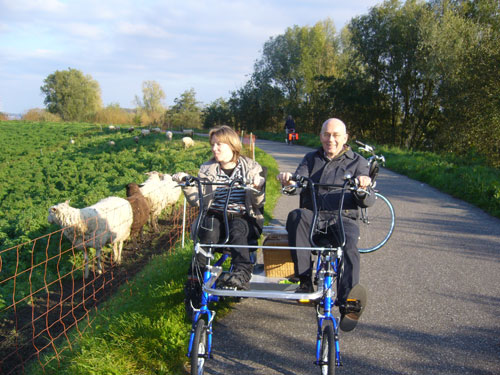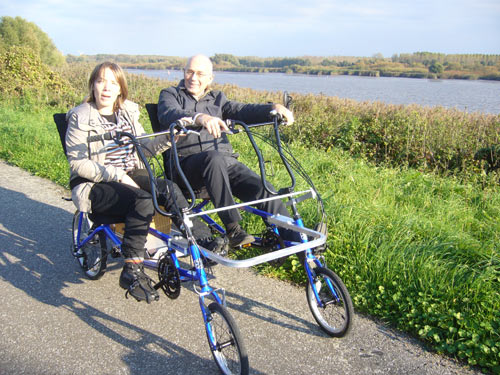 "Dear Mr Black

Here are some pictures of the first Quadribent in Europe! Cycling on one of the last sunny autumn days alongside the river Schelde in Belgium.
We knicknamed it "the good mood bike": because, in passing, all walkers and bikers start smiling upon seeing us, Kristina smiling and enjoying her ride, completely relaxed. Your invention is based on a simple idea, that one wonders why we have not found it earlier and why we were the first.
Now indeed, our daughter, for whom cycling on an individual bike and ordinary tandem had become a painstaking effort, for the first time in years, has found pleasure in cycling again. The quadribent is not only a more social solution (chatting with your co-driver - also now anybody can be co-driver), but also a more ergonomic one for people with cerebral palsy, as now they can sit comfortably and pedal in the front direction, which makes the feet less spastic and without need for splints.
Also from the point of rehabilitation it is a wonderful solution, as now they can move their legs, exercise their quadriceps (quadriceps weakness is a reported problem for people with cerebral palsy), steer again and pedal at their own comfortable pace. Much better than the more passive biking solutions such as a wheel-chair bike and a hand-driven bike. The Quadribent is pleasure and good sense together. Thank you so much!
J. Lebeer MD PhD
Belgium"